Gallery
International Labor Organization (ILO) - SIYB
IMPROVE YOUR BUSINESS

Other than our customized solutions, we also use the International Labour Organization's (ILO's) Start & Improve Your Business (SIYB) program to support entrepreneurs to improve their businesses by reducing operation costs and maximizing profits. The program that has been proven to deliver great results in developing economies. We deal with areas such as how to generate a concrete business idea, how to market your products/services, how to price/cost them, how to optimize your cash flow, how to acquire equipment for your enterprises, etc. Get in touch and let us assist you. Kindly fill the form below if you'd like us to walk together with you on this program.


SIYB
Start and Improve Your Business (SIYB)
Start and Improve Your Business (SIYB) is a program that was initiated by International Labour Orgnization (ILO) to help in the global mission to eradicate poverty through empowering the vulnerable, Youth and Women coming from (largely) 3rd world countries, with practical and dependable entrepreneurial skills that would guarantee their ability to start and run successful enterprises. It is a fruit of extensive research and innovation that began in the 1970s and today it is adopted and implemented in over 150 countries globally in collaboration with governments, private sectors, communities, NGOs, among stakeholders. Millions have been able to benefit from the program and create descent livelihood including victims of wars in refugee camps. It is so far a well tested and proven tool that can be used to create employment opportunities for youth through establishment of successful enterprises that contribute massively in boosting the economic well being of nations. More about how this program is implemented can be found here
Start and Improve Your Business (SIYB)
SIYB BDS

SIYB is divided into 3 Business Development Services (BDSs) also known as Interventions; Generate Your Business Idea (GYBI), Start Your Business (SYB) and Improve Your Business (IYB) all with different target consumers and objectives.
SYB
SYB is targeted on the candidates of GYBI; those who already have concrete business ideas and it helps them to develop the business mindset and bankable business plans that can be implemented. They therefore come out with not only the capacity to roll out their business plans, but also the enthusiasm to ensure its success. At this point they can also qualify for funding which can be obtained through organized linkages workshops with potential investors and SME financiers.
GYBI
GYBI is targeted to those Potential Entrepreneurs who would like to settle on a particular idea out of a couple of ideas (or many of them) before starting. This is the first step and the outcome is a concrete business idea based on individuals core competences given by GOD as manifested in their strengths, personalities and environments. The participants are taken through assessments that help them achieve this specific objective.
IYB
IYB is for those who have been in business, running their own business enterprises, for at least one year and would want to improve the business by limiting costs and maximizing profits and thus creating more descent job opportunities for others. IYB has 7 modules including Marketing, Record Keeping, People Management etc each of which are administered depending on the needs. All these modules can further to customized depending on client needs as informed by Need Analysis.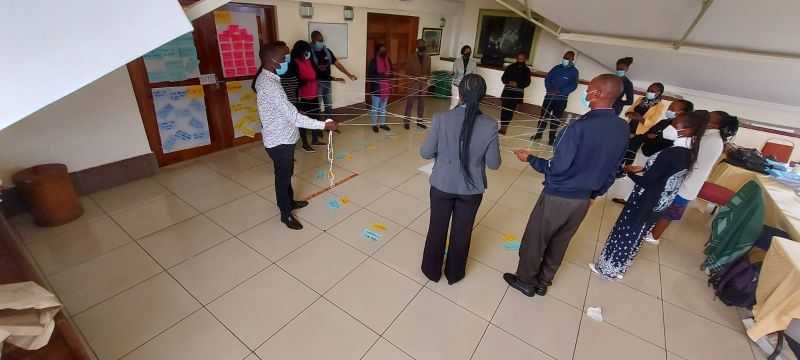 Need Based Training
ILO-SIYB is purely need based. It recognizes that people are at different stages in their business development and have varied needs to address at any particular point in time right from start to the success of the big business. To ensure that the right intervention is given, there is always a form to fill in that helps the trainer to appropriately design your course and ensure the success of the program. You can reach out for more guidance on this. You can download the form, fill and submit to us via the SIYB enquiry form given above.